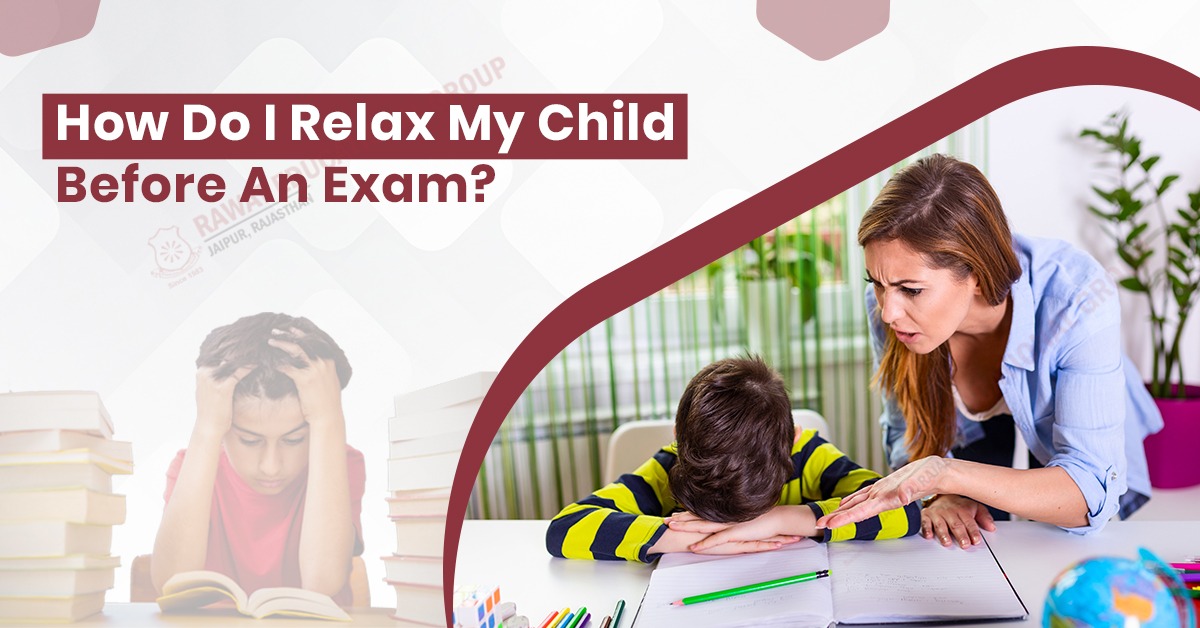 July 12, 2023
How Do I Relax My Child Before an Exam?
Stress is a common experience for students, particularly before exams. The pressure to perform well and the anticipation of the upcoming test can lead to heightened levels of stress and anxiety in children. During this critical time, parents play a vital role in providing the necessary support and guidance to help their child manage and navigate through exam-related stress. By understanding the effects of stress on a child and assuming their parental responsibilities, parents can create a nurturing environment that promotes well-being, resilience, and optimal performance. This article explores how stress affects a child before an exam and discusses the important role parents have in supporting their child during this challenging period.
The Mindset of a Child Before an Exam
During exams, students may experience a range of emotions and thoughts that can contribute to increased stress levels. Here are some common feelings and mindsets students may go through during exams:
Anxiety: Students may feel anxious about their performance, the amount of material to study, or the pressure to meet expectations. This anxiety can manifest as restlessness, racing thoughts, difficulty concentrating, or physical symptoms like increased heart rate.
Overwhelm: The sheer volume of information to be studied and the limited time available can lead to a sense of overwhelm. Students may feel like there is too much to cover and struggle to prioritize or organize their study materials effectively.
Self-Doubt: Students may question their abilities and feel insecure about their preparation. They might compare themselves to others and worry about not being as competent or capable.
Fear of Failure: The fear of failure and the potential consequences of poor exam performance can weigh heavily on students' minds. This fear can create additional stress and impact self-confidence.
Pressure to Perform: Students often face external and internal pressure to achieve high grades and meet expectations from parents, teachers, or themselves. This pressure can create a sense of constant scrutiny and performance anxiety.
Lack of Motivation: In some cases, students may experience a lack of motivation due to exhaustion, burnout, or feeling overwhelmed. They may find it challenging to maintain focus and engage with their studies.
Perfectionism: Some students may have perfectionistic tendencies, setting unrealistically high standards for themselves. They may be overly critical of their performance and fear making mistakes.
Time Pressure: The limited time available for studying and completing exams can create a sense of urgency and stress. Students may feel rushed and struggle to manage their time effectively.
Physical and Emotional Exhaustion: Prolonged periods of intense studying and exam preparation can lead to physical and emotional exhaustion. Students may feel tired, irritable, or emotionally drained.
The pressure to perform well, time constraints, and the importance placed on exam results can contribute to heightened stress levels. However, it is crucial to manage and cope with exam stress effectively to maintain overall well-being and achieve optimal performance.
Must do things to take your child out of exam stress
When your child is experiencing exam stress, there are several key things you can do to help them relax and alleviate their anxiety. Here are some must-do things to take your child out of exam stress:
Create a Calm Environment: Ensure that your home environment is peaceful and conducive to studying. Minimize distractions, provide quiet study space, and maintain a soothing atmosphere.
Encourage Regular Breaks: Help your child understand the importance of taking regular breaks during study sessions. Encourage them to step away from their books and engage in activities they enjoy, such as listening to music, going for a walk, or spending time with pets.
Engage in Relaxation Techniques: Teach your child relaxation techniques such as deep breathing exercises, progressive muscle relaxation, or guided imagery. Encourage them to practice these techniques whenever they feel overwhelmed or anxious.
Support Healthy Habits: Promote healthy habits such as getting enough sleep, eating nutritious meals, and staying hydrated. Adequate rest and proper nutrition contribute to better focus, concentration, and overall well-being.
Provide Emotional Support: Be a source of emotional support for your child. Listen attentively to their concerns, offer understanding and empathy, and provide reassurance. Encourage them to share their feelings and assure them that you are there to support them.
Offer Perspective: Help your child maintain a balanced perspective on exams. Remind them that exams are a part of the learning process and not the sole measure of their worth or abilities. Encourage them to focus on their efforts, growth, and learning rather than solely on the outcome.
Plan Fun Activities: Plan enjoyable activities that can serve as a break from studying and help your child relax. This could include family outings, game nights, or engaging in hobbies or creative activities together.
Practice Mindfulness: Introduce your child to mindfulness practices to help them stay present, reduce anxiety, and improve focus. Encourage them to practice mindfulness techniques such as mindful breathing or body scan exercises.
Avoid Overloading with Information: While it is important to support your child's learning, be mindful not to overwhelm them with excessive information or constant discussions about exams. Balance academic support by providing a sense of normalcy and downtime.
Celebrate Efforts and Self-Care: Recognize and celebrate your child's efforts, hard work, and self-care during the exam period. Acknowledge their achievements, both big and small, and emphasize the importance of self-care and well-being.
Remember, each child is unique, and it is important to be sensitive to their individual needs. Tailor your approach based on your child's preferences and what works best for them. Provide a nurturing and supportive environment to help them manage exam stress effectively.
Summary
Managing stress during exams is crucial for a child's well-being and academic performance. Parents play a significant role in supporting their children through this challenging time. By understanding the effects of stress on a child before an exam, parents can adopt strategies to provide the necessary support and create a nurturing environment. Key aspects of parental involvement include creating a calm and supportive atmosphere, encouraging healthy habits and relaxation techniques, offering emotional support and reassurance, and maintaining a balanced perspective on exams. By assuming their role effectively, parents can contribute to the betterment of their child's exam experience, promoting resilience, reducing stress, and helping them achieve their full potential.