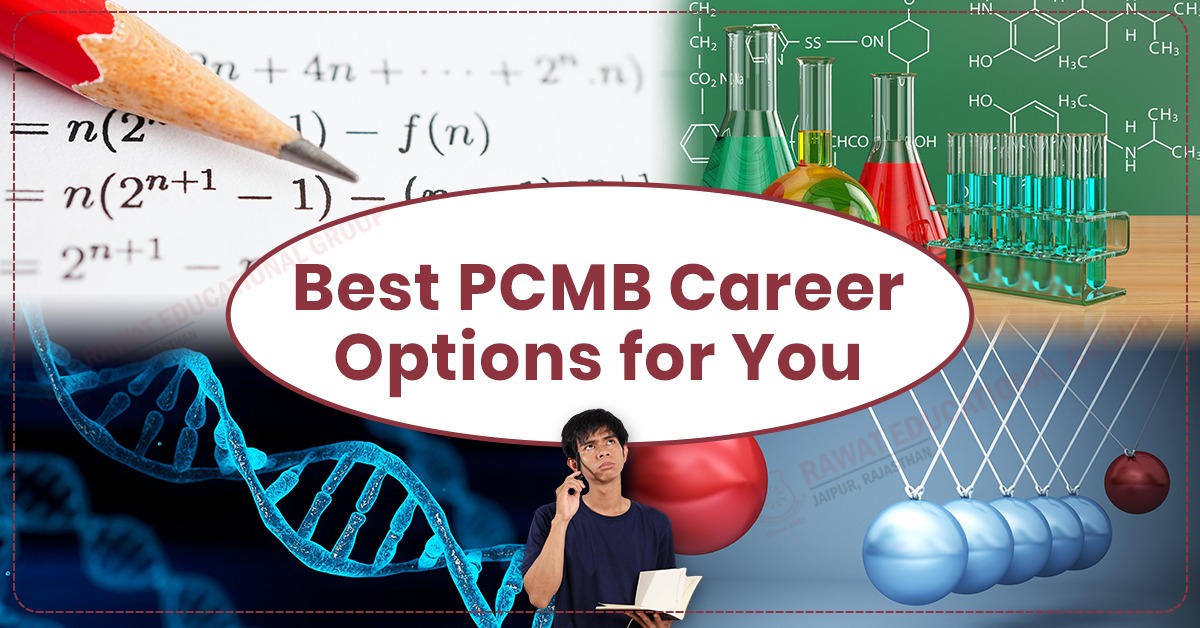 August 29, 2023
Best PCMB Career Options for You
"PCMB" typically refers to a combination of subjects studied in the 12th grade (or equivalent) in the Indian education system. It stands for Physics, Chemistry, Mathematics, and Biology. Students who choose the PCMB combination are keeping their options open for a wide range of future academic and career paths.
By studying Physics, Chemistry, Mathematics, and Biology together, students can prepare themselves for various fields, which opens up a wide range of career opportunities for both fields mathematical as well as biological.
Also read: How to Become a Pilot in India after 12th
Benefits of Choosing PCMB
Choosing PCMB (Physics, Chemistry, Mathematics, and Biology) as your combination in higher education after the 12th grade provides you with a wide range of opportunities due to the diverse skill set and foundational knowledge you acquire. Here are some benefits of opting for PCMB:
Diverse Career Paths: PCMB opens up pathways to a variety of career options, spanning engineering, medical sciences, research, data science, and more. This versatility allows you to explore different fields and make an informed choice based on your interests.
Flexibility: Having a strong foundation in both sciences and mathematics gives you the flexibility to switch between different fields or pursue interdisciplinary studies, as many careers require a blend of these subjects.
Holistic Understanding: PCMB provides you with a holistic understanding of the physical and biological world. This can enhance your problem-solving skills and ability to connect concepts across various disciplines.
Research Opportunities: With a background in PCMB, you're well-prepared to engage in scientific research. Whether in pure sciences or interdisciplinary fields, research opens doors to innovations and advancements.
Competitive Edge: In several competitive exams and entrance tests for higher education programs, having PCMB can give you an advantage, as it meets the eligibility criteria for various courses.
Interdisciplinary Fields: Many emerging fields, such as biotechnology, bioinformatics, and environmental science, require a blend of biology, chemistry, physics, and mathematics. PCMB equips you to excel in these interdisciplinary areas.
Problem-Solving Skills: The analytical and problem-solving skills developed through PCMB can be valuable in a wide range of professions, from engineering to data analysis and research.
Higher Earning Potential: Professions that require a strong foundation in PCMB often come with higher earning potential due to the specialized nature of the work and the demand for skilled professionals.
Global Opportunities: The knowledge gained from PCMB is applicable worldwide. It can open doors to international education and career opportunities in various countries.
Continuous Learning: The subjects covered in PCMB are constantly evolving, allowing you to stay engaged in lifelong learning and adapting to new developments in science and technology.
Contribution to Society: Many careers stemming from PCMB are directly related to improving human health, the environment, and technology. This can provide a strong sense of purpose and contribution to society.
Innovation and Entrepreneurship: A solid foundation in PCMB can empower you to innovate, invent, and even start your own ventures that address real-world challenges.
Preparation for Advanced Studies: If you decide to pursue higher education, having a PCMB background can make you well-prepared for advanced studies in fields like medicine, engineering, biotechnology, and more.
Ultimately, the decision to choose PCMB should align with your passions, interests, and long-term goals. It's important to research the specific requirements and opportunities in the fields that interest you to make an informed choice that sets you on a fulfilling career path.
Also read: Benefits of Meditation for Students
Top 15 Best PCMB Career Options
These are the list of Best PCMB Career options in India.
Engineering: Engineering involves applying scientific and mathematical principles to design and create solutions to real-world problems. There are various branches, including mechanical, civil, electrical, computer science, chemical, etc. Engineers work in industries such as manufacturing, construction, technology, and more.
Medical Sciences: Medical sciences encompass a wide range of careers, including becoming a medical doctor (MBBS), dentist (BDS), or pharmacist (B.Pharm). These professionals diagnose, treat, and prevent illnesses and injuries. Medical research is also a significant aspect, contributing to advancements in healthcare.
Biotechnology: Biotechnology involves using biological systems and organisms to develop new products and processes. This field includes genetic engineering, drug development, bioinformatics, and biomanufacturing.
Biomedical Engineering: Biomedical engineers combine engineering with medical and biological sciences to design and develop medical equipment, devices, and solutions. They work on innovations such as prosthetics, medical imaging systems, and diagnostic tools.
Pharmacy: Pharmacists play a crucial role in healthcare by dispensing medications, providing drug information, and promoting proper medication use. They can work in pharmacies, hospitals, research, and pharmaceutical industries.
Agricultural Sciences: Agricultural scientists work to improve agricultural practices, increase crop yields, and develop sustainable farming methods. Fields include agronomy, horticulture, soil science, and agricultural engineering.
Veterinary Sciences: Veterinarians care for animals' health and well-being by diagnosing and treating medical conditions, performing surgeries, and advising on animal care. They work in clinics, animal hospitals, and research institutions.
Environmental Science: Environmental scientists study the environment and work to address issues like pollution, conservation, and natural resource management. They analyze data, develop policies, and promote sustainable practices.
Architecture: Architects design buildings and spaces that are functional, aesthetically pleasing, and safe. They consider factors like aesthetics, safety codes, and user needs while creating designs.
Data Science and Analytics: Data scientists analyze large datasets to extract meaningful insights, trends, and patterns. They use statistical and computational techniques to make data-driven decisions in various industries.
Actuarial Science: Actuaries assess and manage financial risks using mathematical and statistical models. They work in insurance, pensions, investments, and other sectors to predict and manage future uncertainties.
Research Scientist: Research scientists conduct experiments, analyze data, and contribute to scientific knowledge in fields like physics, chemistry, biology, and interdisciplinary areas. They work in academic institutions, research labs, and industries.
Teaching: Teachers educate students in schools, colleges, and coaching centers. They impart knowledge, facilitate learning, and help students develop critical thinking skills.
Nutrition and Dietetics: Nutritionists and dietitians study food and its effects on health. They provide advice on healthy eating, create personalized meal plans, and contribute to public health initiatives.
Bioinformatics: Bioinformaticians use computational tools and techniques to analyze and interpret biological data. They play a vital role in genomics, drug discovery, and molecular biology research.
Summary
A career in PCMB (Physics, Chemistry, Mathematics, and Biology) offers a diverse range of opportunities, with some of the best options spanning engineering, medicine, research, and innovation. Engineering provides avenues in mechanical, civil, electrical, and computer science, driving technological advancements. Medical sciences encompass medicine, dentistry, and pharmacy, contributing to healthcare improvements. Research offers exploration in physics, chemistry, biology, and interdisciplinary fields, fostering innovation.
Biotechnology and biomedical engineering merge biology and technology for breakthrough solutions. Architecture combines creativity and mathematics in designing functional spaces. Data science and actuarial science leverage mathematical skills for analytical insights and risk assessment. Environmental science addresses ecological challenges. Nutrition and dietetics promote health through food understanding. Overall, a PCMB background equips individuals with versatile problem-solving skills, adaptability, and foundational knowledge, offering promising career trajectories across a spectrum of fields.