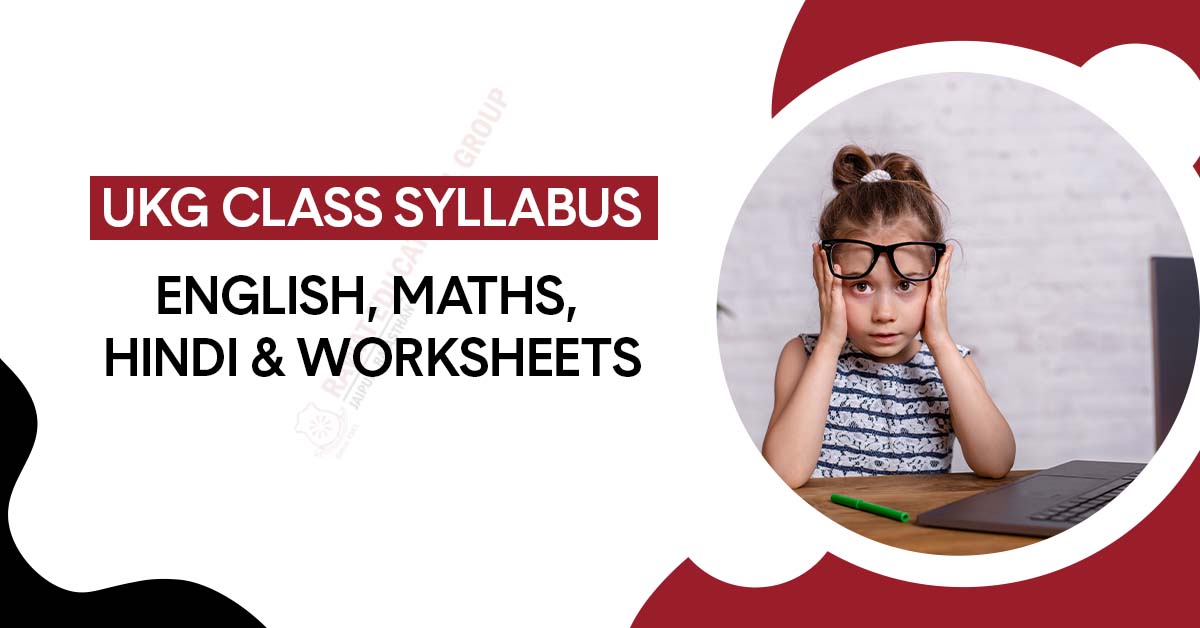 December 28, 2022
UKG Class Syllabus - English, Maths, Hindi & Worksheets
Details on the Upper Kindergarten (UKG) 2023 curriculum have been provided in this article. Early experiences have an impact on a child's social, emotional, cognitive, and physical growth.
Children need to be raised in a setting where they may play with others, develop social skills, and discover their surroundings. Numerous developmental concepts and learning objectives are included in the UKG curriculum.
A curriculum for kids must prioritize their complete development. The UKG curriculum for the CBSE covers every requirement for a child's holistic development. It guarantees kids' success and gives them a strong educational foundation.
Additionally, it gets kids ready for the challenges of elementary school. Parents can get all the information they require regarding the UKG/KG2 syllabus, nursery syllabus and major boards in this article from Embibe.
What is Preschool?
A nursery school or preschool is a type of educational facility or learning environment that offers early education to kids before they enter primary school, where attendance is required.
Children in Nursery are actively engaged in academic tasks like writing, reading, number recognition, counting, and problem-solving, which benefits a child's overall development.
UKG Syllabus:
The CBSE UKG Syllabus incorporates the many developmental domains and learning outcomes in a way that is in line with how young children of this age group naturally learn.
Basic ideas and abilities in language, mathematics, environmental studies, and personal, social, and emotional development are introduced in the UKG (Upper Kindergarten) curriculum for the CBSE (Central Board of Secondary Education).
We will go through each part of the CBSE UKG syllabus in detail in this post, emphasizing the most important learning goals and areas of concentration for each subject.
The language curriculum for UKG focuses on vocabulary development, letter recognition and formation, and simple sentence construction to aid children in the development of their communication skills.
The mathematics curriculum, on the other hand, helps kids build a solid math foundation by introducing them to numbers and fundamental arithmetic operations like counting, addition, and subtraction.
Children are introduced to fundamental environmental ideas through the environmental studies curriculum, including the recognition of everyday items and animals as well as an understanding of fundamental requirements and personal cleanliness.
Read Also: Time Management For Students
UKG Syllabus for English:
Following is the UKG English curriculum used by CBSE, ICSE, ISE, SSC, Cambridge, and IB:
Letters (AA-ZZ)
Article (A/An)
Identification
Objects Related to Letters
One-Many
Positions
Rhyming Words
Sound of Letters
This–That & These–Those
Vowel Words
Vowels and Consonants
Written Topic
Holding of Pencil or Crayon
Picture Recognition of Alphabet
Coloring the Block of Alphabet
Matching Similar Alphabets
Circle the Pictures Related to Alphabet
Slating Line
Zig zag line
Circle and Curves
Mixed Pattern
Having social discussions and reading words and sentences
Use of the Genie Board, flashcards, oral and written exercises, worksheets, storytelling, and dramatization
Picture composition, sentence construction using specific words or structures, and sentence usage of "in," "on," and "under."
The basics of the English language are revisited
UKG Syllabus for Maths:
The following is the UKG Mathematics syllabus for CBSE or ICSE:
Pre-Maths Concepts
Big–Small
Front–Back
Full–Empty
Heavy–Light
In–Out
More–Less
Right–Left
Same–Different
Tall–Short
Thick–Thin; Top–Bottom
Numbers (1-200)
1 digit Addition
1 digit Subtraction
Addition and Subtraction Without Objects or Pictures
Before, After, Between Number (1-100)
Count and Write, Colour and Match
Forward and Backward Counting (1-50)
Money
Number Names (1-50)
Picture Addition
Picture Subtraction
Putting Signs like '>', '<' and '='
Simple Addition & Subtraction Using Objects
Skip Counting 2 & 5
Time
Writing
Shapes
Circle
Diamond
Oval
Rectangle
Semi-Circle
Square
Triangle
Colors
Black, White, Pink (Shades – Light & Dark)
Orange, Green, Purple (Shades – Light & Dark)
Red, Yellow, Blue (Shades – Light & Dark)
UKG Syllabus for Hindi:
The following is a list of the Hindi curriculum for UKG in CBSE:
स्वर (अ-अः)
व्यंज़न (क-ज्ञ)
व्यंज़न (क-ज्ञ) मात्राऍ लगाना ।
मात्राओ का ज्ञान (अ-अः)
एक – 2 मात्रा हर एक व्यंजन पर लिखकर सिखाया जाता हेै ।
दो मात्रा (अ,आ) दोनो एक साथ लिखकर सिखाया जाता हेै
क्र + अ :- क
क्र + आ :- का
UKG Syllabus for General Awareness
Myself
Parts of body
Sense organs
My Home
My Family
My School
Seasons
Summer
Rainy
Winter
Transport
Land
Water
Air
Animals
Wild
Water
Domestic
Pet
Farm
Animals and their sounds
Animals and their young ones
UKG Syllabus for Environmental Science (EVS):
Gaining knowledge of various forms of transportation and using them by way of visits or demonstrations
By visiting a police station or post office, one can learn about traffic laws and safety.
Defining and explaining the terms "air, water, and sound pollution"
collecting and classifying environmental objects, both live and inanimate, as part of a project
Read Also: Kids Learning Resources