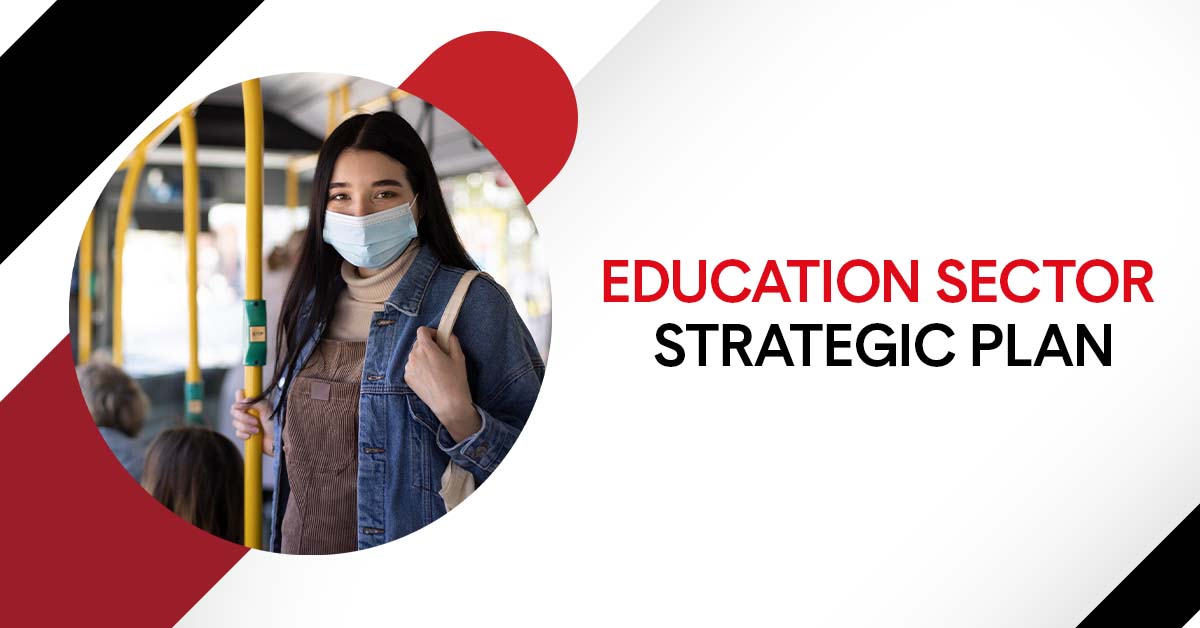 August 14, 2022
Education Sector Strategic Plan
In its simplest form, strategic planning involves identifying objectives, selecting the appropriate course of action, and allocating the necessary resources. A strategic plan outlines how objectives will be met by utilising the resources at hand.

Military strategy is where strategic planning as we know it today originated. Greek strategus translates to "an army general." And when you stop to think about it, we still use military strategy terminology to describe our professional lives today. Just three examples include "front line workers," "in the trenches," and "war rooms."
Thankfully, the field of strategic planning in education has evolved to become far less combative. Many of those planning methods and paradigms, which at first derived from business practices as a result of people migrating from the private sector into leadership roles in educational institutions, have been modified to place a stronger emphasis on collaboration and consensus.
This is because, both functionally and legally, strategic planning at the school district level requires community cooperation. Every size of school district uses strategic planning to accomplish the overarching objectives of raising student outcomes and adapting to changing demographics while maintaining the allocated budget.
Top-performing school administrators have changed their strategic planning procedure to proactively incorporate parents and other important constituent groups. They are aware that their strategic goals are likely to fail without the help of the community and the knowledge that comes through community participation.
The preparation of an Education Sector Plan
1. Planning for Survey of Felt Needs and Requirements:
Surveying perceived needs and requirements is necessary before developing the educational programme for a facility, organisation, or community in any setting. It means that the first stage in educational planning is to arrange for a survey of the perceived needs and requirements of any educational institution or organisation.
2. Planning for Allocation of Resources:
The allocation of both physical and human resources for meeting the perceived educational needs and requirements is referred to as the phase of educational planning.
3. Planning for Formulation of Educational Goals:
Educational goals would have been created during this stage of planning based on the resources, requirements, and needs that were identified.
4. Developing a Specific Objectives Programme:
The educational planners plan for the formation of a set of objectives in this step from a contextual standpoint. These goals may be the learning objectives or anticipated results of a certain educational programme offered by a school or other organisation.
5. Planning for Implementation:
This stage of educational planning deals with the practical application of a curriculum and the interaction of human, material, and financial resources. But the best way to implement a plan is through human resources. The roles and duties of each participant in the educational programme must be planned for before the plan's implementation.
6. Planning for Regular Monitoring:
During implementation and near the end of an educational programme, planning must be made for the monitoring of the programme by qualified persons. As a result, there will be room for improvement and the construction of a curriculum that will adequately realise educational goals.
7. Planning for Evaluation:
This stage of educational planning suggests that the main goal of this step is to determine whether the plan has been successful in meeting the needs of the educational programme and to identify any flaws in how the programme is being implemented. A group of qualified individuals can conduct this review.
8. Re-planning and Revising:
Being the final but not least part of educational planning, it refers to taking action to re-plan the educational plan and change it as and when necessary if, based on evaluation, the educational planning of any programme appears to be deficient.
The National Institute of Educational Planning and Administration (NIEPA)
The National Institute of Educational Planning and Administration (NIEPA), which was founded by the former Ministry of Human Resource Development (now Ministry of Education), Government of India, is a leading institution that conducts research and builds capacity in educational planning and management not only in India but also in South Asia.
The Government of India granted the organisation the title of Deemed to be University in August 2006 in honour of the organization's innovative work in the fields of educational planning and administration, giving it the authority to confer degrees. NIEPA is entirely supported by the Government of India, just like other Central universities.
The Asian Regional Centre for Educational Planners and Administrators, which UNESCO founded in 1962 and later renamed the Asian Institute of Educational Planning and Administration in 1965, is where the National Institute got its start. It was taken over by the Indian government after four years and given the new name, National Staff College for Educational Planners and Administrators. In 1979, the National Staff College underwent another name change to become the National Institute of Educational Planning and Administration (NIEPA) to better reflect its expanded roles and responsibilities, particularly in the areas of capacity building, research, and professional support services to governments.
Top 5 Successful Strategic Plans:
It is difficult to comprehend that around 70% of strategic plans fail and 73% of change initiatives fail to result in any significant or long-lasting change given the attention and concentration given to them.
Our Vistage Chairs (former executives who are now business mentors) were troubled by these statistics, so they compared notes on initiatives that had worked and, with the help of some prominent researchers, came up with a top 5 list of shared characteristics.
1. Objective situational and stakeholder analysis
You're unlikely to develop very effective plans unless you have a clear grasp of "what's going on here" from an impartial and objective standpoint. Examine everything that is going on both internally and externally, and focus especially on the demands of your stakeholders. A problem properly defined as a problem half solved is the most famous phrase which is always used with Strategic Plans.
2. Clarity of purpose and realistic goals
he proprietor of Foursight Seminars Inc., stresses the need of having clear goals that are both aspirational and practical for your team members and speaks of "purpose, attention, and passion" when discussing it. The attention and passion necessary to achieve a sustained, fruitful effort are fueled by the clarity of purpose.
3. Sense of urgency
According to Allen Hauge, president of Hauge Farms, Inc., "without a sense of urgency, it's too easy to put off until tomorrow what should be acted upon today." John Kotter, a retired professor at Harvard Business School, calls it "a gut-level desire to act today." It involves igniting a fire within and inspiring a lasting will to change, not igniting a fire under someone by instilling urgency through a manufactured crisis.
4. Playing to your organizational strengths and highlighting your values
Understanding what you would do based on your priorities and values is key to developing a successful strategy. The significance of balancing the unchanging core (values and firm mission) with fostering advancement in their book Built to Last (change and innovation). "Be sure to utilize your company's advantages. The opposite of doing so is what Tom Rath refers to as "following the path of least resistance."
5. Understanding your culture
Working with your culture rather than against it can greatly help your organization align and advance. Swim against the current as little as possible. If you try to compel change, your strategy will inevitably fail along with other important strategic endeavors.