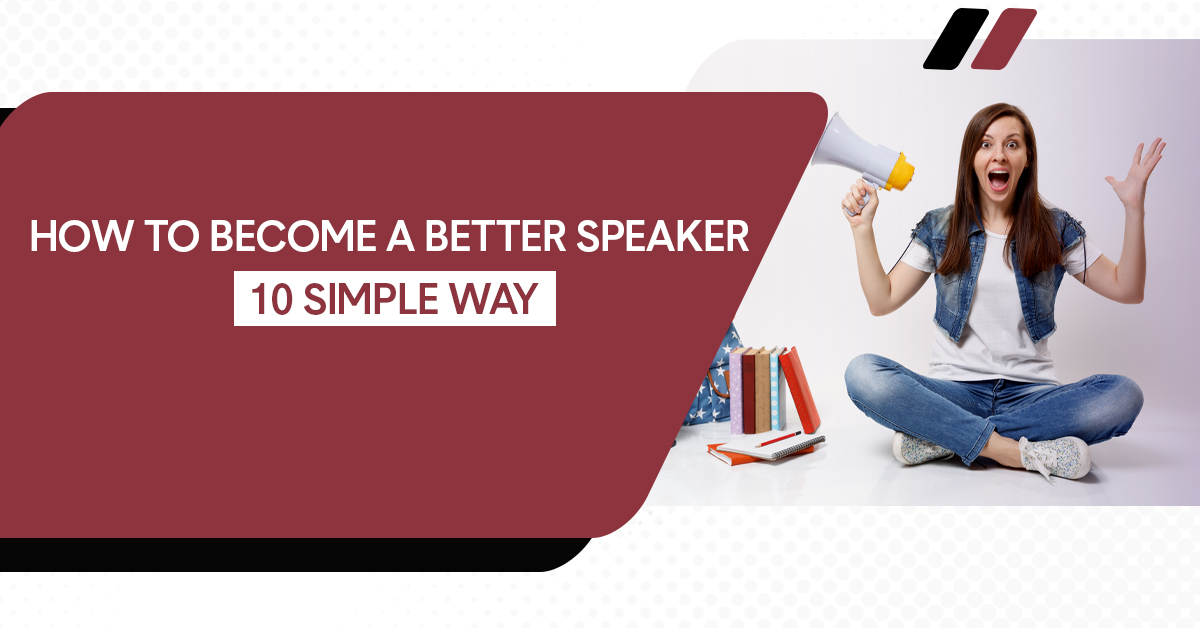 October 01, 2022
How to Become a Better Speaker – 10 Simple Way
Every entrepreneur (and intrapreneur, too) spends a great deal of time communicating. It doesn't matter whether you're leading a team meeting, pitching a client, or keynoting an industry event, there is always an opportunity to speak. Speaking at events is also a great way to raise your business's profile and enhance its reputation as an expert.
Speaking in public is one of the most common fears people have, and it's both an art and a science. The good news is that with a few tips and some practice, you can leave a lasting impression that people will want to remember.
The Importance of Public Speaking:
Public speaking skills can help you take your career to the next level even if you don't regularly present in front of groups.
In addition to presenting your organization's agenda at conferences, accepting awards, or teaching new recruits a class, you might also have to speak after receiving an award. Presentations and talks can also take place online; for example, when training a virtual team or conducting online meetings with customers.
The ability to speak in public is important not only in the workplace but in every area of your life. There are many occasions when you might be asked to speak at a friend's wedding, to deliver a eulogy for someone you love or inspire a group of volunteers.
Being a good public speaker includes enhancing your reputation, boosting your self-esteem, and opening up countless opportunities for you.
It is true that good skills can open doors, but poor skills can close them. A poorly delivered presentation could cause your boss to decide against promoting you. During a sales pitch, a lack of connection could lead to the loss of a valuable new contract.
As a result of tripping over your words and failing to look your new team in the eye, you could make a bad impression on them.
Ways of Public Speaking:
The following 10 tips will help you develop your public speaking and presentation skills:
1. Pay Attention to Body Language
Body language will constantly and subtly give your audience clues about your inner state, even if you're unaware of it. It's easy for the audience to detect nervousness or disbelief in what you're saying.
Make sure you pay attention to your body language: stand up straight, breathe deeply, and smile. Make sure you don't lean on one leg or use unnatural gestures.
It is common for presenters to stand behind a podium when they deliver their presentations. The podium serves as a platform for you to hold notes, but it also creates a barrier between you and the audience. You can also use them as a crutch, giving you a place to hide from dozens or hundreds of eyes.
Walk around the stage and use gestures to engage the audience instead of standing behind a podium. You will also hear this energy and movement in your voice, which will make it more active and passionate.

2. Listen
Communication is a two-way process - both sides need to be involved, whether you're talking to one person or a thousand. The most effective communicators listen to what others have to say before speaking when engaging listeners in less formal conversations.
Engage in meaningful conversation with them so you can answer their questions appropriately, followed by your own thoughts. When you're making small talk, come up with a topic you both have in common, such as family, hobbies, work, travel, or books.
3. Study
You can find new trends in writing and delivering speeches by looking up articles online. Make sure you incorporate the most effective methods into your speech.
It is also possible to try to emulate a famous speaker whose work you admire. Be attentive to the way they speak, such as their intonation and volume, and to the way they move, such as their gestures and body language. Make your notes and practice what they do.
4. Research The Topic
Learn as much as you can about your topic before presenting to an audience. You should research the topic thoroughly and try to develop expertise in it. Besides enhancing your ability to craft a better speech, this approach increases your confidence and enhances your memory.
5. Avoid learning word by word
Are you tired of memorizing verb lists and still being unable to speak confidently? It is time to change your strategy and adapt to new things. Instead of learning full expressions, learn them chunk-by-chunk.
Consider new expressions as a single unit that can't be separated. Make sure you listen carefully and repeat. Allow yourself a moment to forget about grammar and meaning until the expression begins to feel natural.
Do not create unnecessary obstacles by copying and pasting what you hear. It would be preferable to learn how to conjugate the verb "to need" beforehand, rather than translating word-by-word an expression like "I need water.".
6. Be real
Our personalities are a blend of traits, thought patterns, and mannerisms that can make communication easier. It is best to let the real you shine through by being natural and being yourself. The more comfortable you are, the more convincing you will appear.
7. Make it interactive
Elevator pitching is one of my favorite speeches. My presentation begins by laying out the foundations of a good pitch, followed by clips of actual pitches and audience critiques. The audience is kept involved in the presentation, which makes it fun and more engaging, and allows them to retain the information more easily.
When planning your speech, consider how you can engage the audience and how you can use devices to engage them in the presentation so that you are speaking to them as well as to them.
8. Categorize the information
Make sure you consider your audience's ability to absorb and retain information when speaking in public. To help your audience understand a complex topic or speak for a long time, it's helpful to introduce key information little by little.
Your key message can be divided into three fundamental parts if you categorize your information according to this method. You should title your slideshow or other presentation materials appropriately and ensure that each part provides an actionable takeaway.
9. Listen to others as much as you speak
The difficulty of speaking in English is often caused by three things: the foreign accent, the inability to remember keywords when they need them, and the inability to understand when people respond.
Don't shy away from listening to songs, watching series, and documentaries, and also learning accents and vocabulary. Then you will have a better understanding of what English sounds like in different countries and how it is spoken by different types of people.
10. Listen to yourself and get feedback from native speakers
It is common for English students to be so shy and nervous that they put off speaking for as long as possible. The students realize after months of study that they have never actually heard themselves speak! You need to practice basic sentences out loud from the very first day. Take a moment to hear yourself. When you speak English, hear how it sounds in your mind.
Recording yourself reading simple texts is a good place to start. There are two ways in which this helps you. The first step is to become comfortable with the sound of English coming out of your mouth. Second, you'll be able to save your recordings so that you can view your progress in the future.