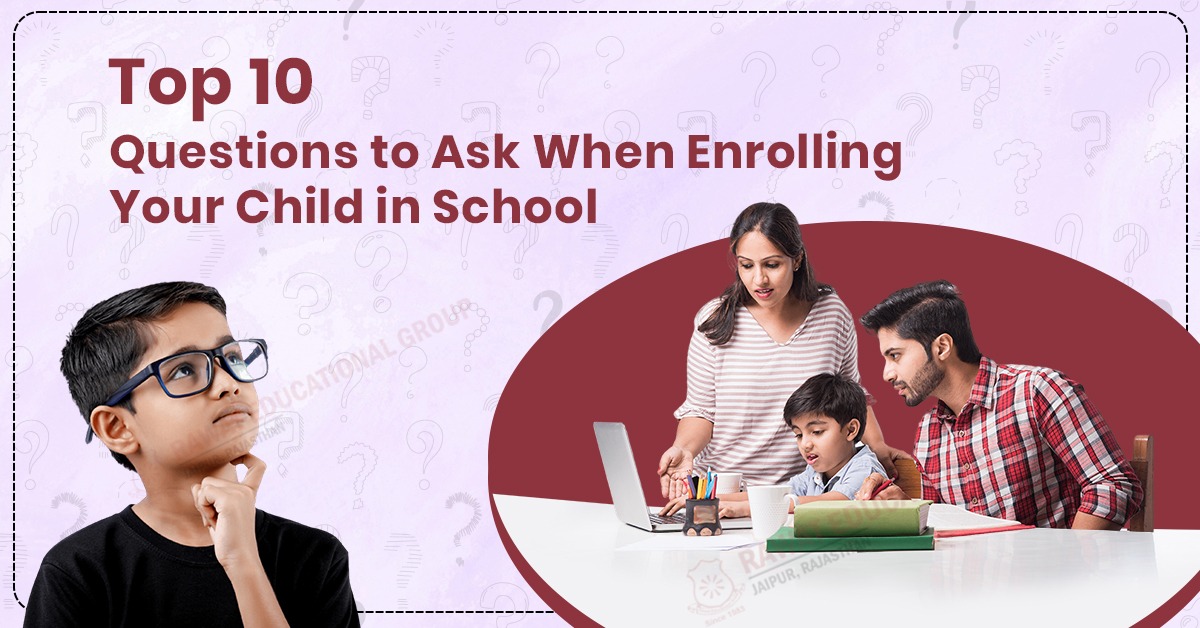 July 14, 2023
Top 10 Questions to Ask When Enrolling Your Child in School
Enrolling a child in a school is a significant decision that greatly influences their educational journey and overall development. It is crucial for parents to carefully consider and assess the quality of a school before making a decision.
When it comes to a child's education, selecting the right school is of utmost importance. A school not only imparts knowledge but also plays a vital role in shaping a child's personality, values, and future prospects. Parents must invest time and effort in evaluating the quality of a school to ensure that it aligns with their child's needs, aspirations, and overall well-being.
Factors that affect Choosing a School
These are the factors you should keep in mind while choosing a school for your child:
Academic Excellence: A good school focuses on academic excellence and provides a strong foundation of knowledge, skills, and critical thinking abilities. It offers a well-structured curriculum, qualified teachers, and a conducive learning environment to foster intellectual growth.
Holistic Development: A good school emphasizes holistic development, nurturing a child's physical, emotional, social, and creative dimensions. It offers a wide range of extracurricular activities, sports, and cultural programs to enhance a child's talents and interests beyond academics.
Qualified and Dedicated Faculty: A good school boasts a team of qualified, experienced, and dedicated teachers who are not only subject matter experts but also mentors and role models. They play a crucial role in providing personalized attention, guidance, and support to help students reach their full potential.
Infrastructure and Resources: A good school provides a well-equipped infrastructure, including classrooms, libraries, laboratories, and technology resources that facilitate effective teaching and learning. Adequate resources enable students to explore and engage in various educational experiences.
Safe and Inclusive Environment: A good school ensures a safe and inclusive environment where students feel respected, valued, and encouraged to express themselves. It promotes diversity, fosters positive relationships, and instills values of empathy, respect, and acceptance.
Parental Involvement and Communication: A good school values the partnership between parents and educators. It encourages parental involvement, maintains open lines of communication, and collaborates with parents to support a child's progress and address any concerns effectively.
Future Opportunities: A good school prepares students for future opportunities by equipping them with the necessary skills, knowledge, and values to succeed in higher education and the professional world. It helps students develop critical thinking, problem-solving, and interpersonal skills that are essential for lifelong learning and success.
Questions to ask at a school interview
When attending a school interview as a parent, it is important to ask relevant and insightful questions to gather information about the school and make an informed decision. Here are some questions you can ask during a school interview:
Academic Programs:
What is the school's curriculum and teaching methodology?
How do you promote critical thinking and problem-solving skills?
How do you cater to students with different learning styles and abilities?
Are there any specialized programs or enrichment activities offered?
Faculty and Staff:
What qualifications and experience do the teachers possess?
How do you support professional development for the faculty?
What is the student-to-teacher ratio in classrooms?
How do teachers handle students' individual needs and provide personalized attention?
Student Support and Well-being:
How do you support students' social and emotional development?
What measures are in place to ensure a safe and inclusive environment?
How do you handle disciplinary issues and promote positive behavior?
Are there any counseling or support services available for students?
Extracurricular Activities:
What extracurricular activities and clubs are available for students?
How do you encourage student involvement in sports, arts, and other interests?
Are there opportunities for students to participate in competitions and events outside the school?
Parental Involvement and Communication:
How do you involve parents in their child's education and school activities?
What channels of communication are available between parents and teachers?
Are there parent-teacher meetings or workshops organized throughout the year?
Facilities and Resources:
What kind of facilities does the school offer, such as libraries, laboratories, and sports facilities?
Do you have access to technology resources and how are they integrated into the learning process?
How do you ensure the safety and security of students within the school premises?
Assessment and Progress Monitoring:
How is student progress assessed and reported to parents?
What measures are taken to identify and support students who may need additional help?
Are there any standardized tests or assessments conducted by the school?
Opportunities and College Preparedness:
How do you prepare students for higher education and future career opportunities?
Do you have any alumni network or college placement support?
What percentage of students typically pursue higher education after graduating from your school?
Remember, these questions serve as a starting point, and you can adapt them or add more based on your specific concerns and priorities. It is crucial to actively listen to the responses and engage in a meaningful conversation to gain deeper insights into the school's values, approach, and suitability for your child.
Also read: How Do I Relax My Child Before An Exam
Importance of Question Set while Choosing a School for your child
Asking questions is essential when enrolling your child in a new school. It helps you gather important information, understand the school's policies and practices, and assess if it is the right fit for your child's education and overall well-being. Here's why asking questions is important and how to approach it when enrolling your child in a new school:
Gather Information: Asking questions allows you to gather crucial information about the school's academic programs, teaching methodologies, extracurricular activities, and support services. This information helps you make an informed decision and ensures that the school aligns with your child's needs and aspirations.
Clarify Doubts: By asking questions, you can seek clarification on any doubts or concerns you may have about the school. This could include inquiries about safety measures, disciplinary policies, student-teacher ratios, or any other aspect that is important to you as a parent.
Understand the School Culture: Questions provide insights into the school's culture, values, and overall environment. You can inquire about how the school fosters inclusivity, promotes character development, handles diversity, and encourages positive relationships among students and staff.
Assess Communication Channels: Asking about communication channels helps you understand how the school keeps parents informed about their child's progress, upcoming events, and any other important information. Clear communication and parental involvement are crucial for a successful parent-school partnership.
Gauge Parental Involvement: By asking questions, you can learn about opportunities for parental involvement in the school community. Inquiring about parent-teacher associations, volunteering options, or school events allows you to understand how you can actively engage in your child's educational journey.
When asking questions at a new school for your child, it is important to approach it in a respectful and positive manner. Here are some tips to keep in mind:
Be Prepared: Prepare a list of questions in advance based on your concerns and priorities. This ensures that you cover all the important aspects and make the most of your conversation with school representatives.
Active Listening: Listen attentively to the responses provided by the school representatives. This shows that you value their input and helps you gain a deeper understanding of the school's values and practices.
Be Respectful and Professional: Maintain a respectful and professional tone when asking questions. It is important to convey your concerns and expectations without being confrontational or judgmental.
Follow-Up Questions: If a response needs further clarification or elaboration, don't hesitate to ask follow-up questions. This helps you gain a clearer understanding of the information provided.
Take Notes: Take notes during the conversation to ensure you remember the details and can refer back to them when making your decision. This also shows your attentiveness and seriousness in considering the school.