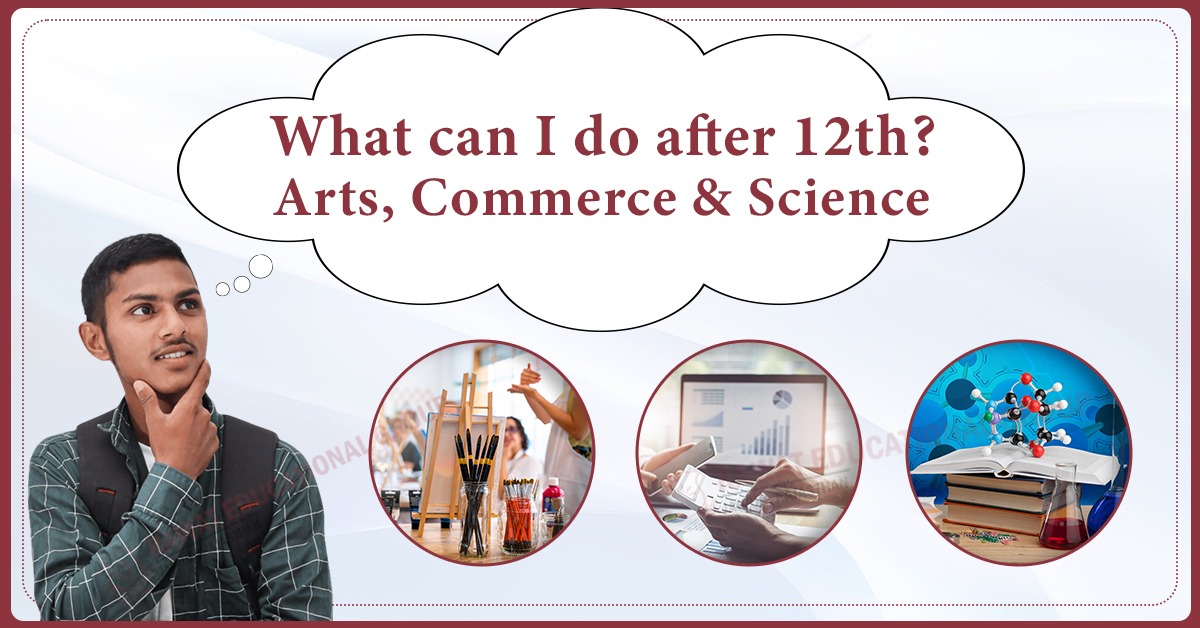 August 30, 2023
what can i do after 12th: Arts, commerce & Science
Choosing a career after completing the 12th grade is a pivotal and transformative moment in a young person's life. This decision sets the stage for the journey into adulthood and shapes the course of one's future. The importance of making the right career choice cannot be overstated, as it impacts various aspects of life, including personal fulfillment, financial stability, and professional growth.
After the 12th grade, individuals are faced with a multitude of options, each leading to diverse career paths. Whether one has pursued the Arts, Commerce, or Science stream, the possibilities are extensive, and the choices made now can significantly influence one's lifelong trajectory. This critical juncture necessitates thoughtful self-assessment, thorough research, and careful consideration to ensure the chosen career aligns with one's passions, interests, skills, and aspirations.
Also read: Best PCMB Career Options
Importance of Choosing Best Path after 12th.
Choosing a career after completing your 12th grade is indeed a significant and crucial decision in your life. The path you choose can significantly impact your future, personal growth, financial stability, and overall well-being. Here are some reasons why selecting the right career is important after the 12th grade:
Long-Term Impact: The career you choose often determines the trajectory of your life. It can influence your income potential, job satisfaction, work-life balance, and overall quality of life. Therefore, making an informed decision is vital for your long-term happiness and success.
Personal Fulfillment: A fulfilling career aligns with your passions, interests, and values. When you enjoy what you do, work doesn't feel like a burden, and you're more likely to excel and find happiness in your profession.
Financial Stability: Your career choice can significantly impact your earning potential. Some professions offer higher salaries and better financial security than others. It's essential to consider your financial goals and responsibilities when making your choice.
Professional Growth: Different careers offer varying opportunities for growth and advancement. Some fields may require continuous learning and development, while others may have more limited upward mobility. Understanding the growth prospects in your chosen field is crucial.
Job Security: The job market is dynamic, and certain industries may be more stable than others. Choosing a career with good job security can provide peace of mind, especially during economic downturns.
Contribution to Society: Many people find fulfillment in careers that allow them to make a positive impact on society. Your career choice can influence the broader community or even the world, so it's essential to consider how you want to contribute.
Work-Life Balance: Some careers demand more time and effort than others. Consider your lifestyle preferences and how your chosen career may affect your work-life balance.
Skills and Abilities: Your skills, strengths, and natural abilities should align with your career choice. Leveraging your innate talents can lead to greater success and job satisfaction.
Passion and Motivation: Passion is a significant driver of success and personal fulfillment. A career that aligns with your passions can keep you motivated and engaged throughout your working life.
Personal Growth: Your career journey is also a journey of personal growth and development. It can challenge you to learn new skills, adapt to changing environments, and become a better version of yourself.
What can you do after 12th Arts:
Completing your 12th grade in the Arts stream opens up diverse avenues for your future. Arts stream encompasses subjects like History, Geography, Political Science, Sociology, Psychology, Literature, Fine Arts, and more. Here are some options you can explore:
Bachelor of Arts (BA): Pursuing a BA degree allows you to delve deeper into subjects like History, Sociology, Psychology, Literature, and Political Science. You can specialize in a particular field of interest.
Bachelor of Fine Arts (BFA): If you have a passion for visual arts, you can opt for a BFA program. It includes various specializations like painting, sculpture, and applied arts.
Bachelor of Social Work (BSW): If you're interested in social welfare and community development, BSW can be a good choice.
Bachelor of Education (B.Ed): If you aspire to become a teacher, you can pursue a B.Ed degree after your BA.
Bachelor of Arts in Mass Communication: This is a great choice if you want to pursue a career in journalism, advertising, public relations, or media.
Bachelor of Hotel Management (BHM): If you have a passion for hospitality and management, BHM can lead to a career in the hotel and tourism industry.
Fashion Designing: Consider courses in fashion design to enter the fashion industry.
Event Management: You can specialize in event management and planning.
Civil Services: Prepare for UPSC or other civil service exams to become an IAS, IPS, or IRS officer.
Creative Writing and Journalism: Pursue courses in creative writing or journalism to become a writer or journalist.
Animation and Multimedia: If you have a knack for creativity and technology, this field offers various career opportunities.
Languages: If you have a strong command of languages, you can become a translator or interpreter.
After 12th Commerce:
The Commerce stream includes subjects like Accounting, Economics, Business Studies, and Mathematics. It provides a strong foundation for careers in business and finance. Here are some options:
Bachelor of Commerce (B.Com): You can specialize in areas like Accounting, Finance, Banking, or Economics within the B.Com program.
Chartered Accountancy (CA): Becoming a CA is a prestigious and financially rewarding career path in the field of accounting and finance.
Company Secretary (CS): CS professionals handle corporate governance and compliance matters for companies.
Cost and Management Accountancy (CMA): CMAs manage cost accounting and financial management in organizations.
Bachelor of Business Administration (BBA): BBA programs offer a broad understanding of business management, and you can specialize in areas like Marketing, Human Resources, or Finance.
Bachelor of Economics: Pursue a Bachelor's degree in Economics to enter fields related to economic analysis and policy-making.
Bachelor of Hotel Management (BHM): Like Arts students, Commerce students can also opt for this program if they have a keen interest in the hospitality industry.
Actuarial Science: Actuaries assess financial risks in various industries and require a strong mathematical background.
Entrepreneurship: If you have a business idea, you can start your venture.
Stockbroker or Financial Analyst: You can work in the stock market or as a financial analyst.
Digital Marketing: With the rise of online businesses, digital marketing skills are in high demand.
After 12th Science:
The Science stream includes subjects like Physics, Chemistry, Biology, and Mathematics. It provides a foundation for various technical and scientific careers. Here are some options:
Bachelor of Science (B.Sc): Pursue a B.Sc in Physics, Chemistry, Biology, Mathematics, or Computer Science based on your interests.
Bachelor of Engineering (B.Tech): If you want to become an engineer, choose a specialization like Mechanical, Civil, Computer Science, Electronics, or Electrical Engineering.
Bachelor of Medicine, Bachelor of Surgery (MBBS): This is for those who want to become doctors. It requires dedication and extensive study.
Bachelor of Dental Surgery (BDS): Similar to MBBS but focused on dentistry.
Bachelor of Pharmacy (B.Pharm): A path to a career in the pharmaceutical industry.
Bachelor of Computer Applications (BCA): For those interested in computer science and software development.
Bachelor of Science in Nursing (B.Sc Nursing): Ideal for those who aspire to become nurses.
Bachelor of Science in Biotechnology: Explore the field of biotechnology, which combines biology and technology.
Bachelor of Science in Aviation: Pursue a pilot or aviation management career.
Research and Development: You can work in research labs or pursue a career in scientific research.
Environmental Science: Contribute to environmental conservation and sustainability.
Astronomy and Astrophysics: Study celestial bodies and the universe.
Summary:
Choosing the right career path after completing the 12th grade is a decision of profound significance. It marks a crucial transition from adolescence to adulthood, setting the course for one's future endeavors. The importance of this choice lies in its far-reaching consequences, impacting personal fulfillment, financial stability, and professional growth.
At this juncture, students from various streams—Arts, Commerce, and Science—face a multitude of options, each offering a unique set of opportunities and challenges. The key to making an informed choice is a combination of self-reflection, research, and guidance.
The aim is to provide valuable insights into the diverse avenues available after the 12th grade, catering to the distinct interests and strengths of students in each stream. By shedding light on these possibilities, we hope to empower students and their families with the knowledge needed to make well-informed career decisions.